STM tuner secondary clutch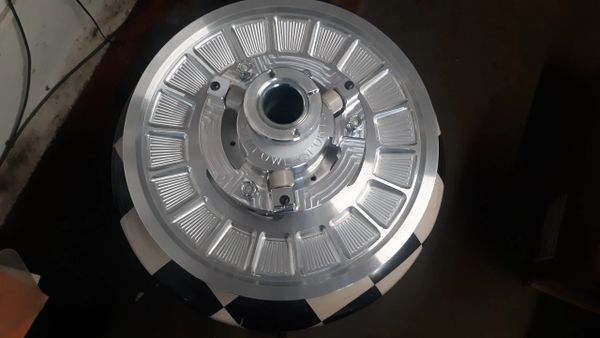 STM tuner secondary clutch
 A simple bolt-on that utilizes the old style OEM Arctic Cat helixes and springs providing a much wider variety of tuning options. The tuner is made from T6061 aluminum and heat treated steel hub and towers. The movable sheave has reinforced towers for the higher HP applications when needed. It also has a belt deflection adjuster (no shims needed) and non wearing rollers.
The TUNER wakes up machine creating a better up shift and back shift.  This bolt-on will help with eliminating belt heat that plagues the stock driven. 
The Tuner comes with no spring or helix . We offer spring and helix combos for an additional fee. This STM tuner runs with the OEM stock belt.
All parts and bushings can be replaced and serviced.
Yamaha 998 sleds using the 10.75 secondary and the Cats using the 11 inch, can use the stock belts
TAPP primary with 11.25 inch secondary combo on 998 Cat or Yamaha, will use XS-811
Procross 1100 with 11 inch will use XTX5037 belts
These are only a few of the available STM products that we either stock or can order. We are a full service STM dealer and if you do not see what you need, please contact us and we will be happy to help get what you need.
We do keep a small number of helix and spring combos in stock but can get whatever you need so again, if you dont see what you need listed, please contact us.
Reviews