998/1049 lightweight valve spring kit, titanium retainer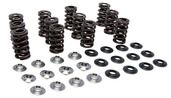 998/1049 lightweight valve spring kit, titanium retainer
This is the kit we recommend for trail applications. The 998 engine will easily dislodge valve shims when hitting the rev limiter and inducing valve float, and this upgrade goes a long way to helping prevent that issue. it is also a mandatory upgrade if doing one of our camshaft kits as the stock springs are not strong enough. 
This kit uses dual springs and lighter titanium retainers.
NOTE: if you are racing and using any form of antilag, we suggested upgrading to the shim in tappet kit.
Reviews